Urban Rhythmanalysis in Shimokitazawa, Tokyo
Cities today are being made and remade at a faster pace and at a larger scale than ever before. Additionally, the built environment as well as its populations and capitals is rapidly changing. In order to cope with transitory urban situations, several methods have been invented incrementally and developed through designer-led urban planning by Le Corbusier and Jane Jacobs, Henri Lefebvre' s critiques for everyday life, and urban practices of the situationist international. Currently, in the area of urban planning and architecture, much attention has been paid to focus on how to know cities, to redefine them, and to make the best of them.

This research aims 1) to speculate how to use the power of rhythms, musical elements, to improve the urban environment and to increase meaningful civic engagement and 2) design and implement tactical media. By rhythmanalysis, a method for analyzing rhythms of urban spaces, advocated by Henri Lefebvre in 1992, Tanaka collected the rhythms of Shimokitazawa, Tokyo, Japan and have analyzed the data of them. Besides, referring to the practices of situationist, he designed interactive media that would make use of existing houses and spaces and would help people to "drift" information-space and real-space. The final object of this research is to empower civic engagement using the notion of rhythms and tactical media.

Deliverables are as follows:
1) Urban Score: On the basis of rhythmanalysis, I have designed graphic diagrams that show you Shimokitazawa's invisible structures.
2) Urban Music: I have asked an artist to make music using sound materials recorded in Shimokitazawa as Participatory Design.
3) Urban Media: I have edited and designed an interactive media on Shimokitazawa that could insist of Music, Movies, texts and so on.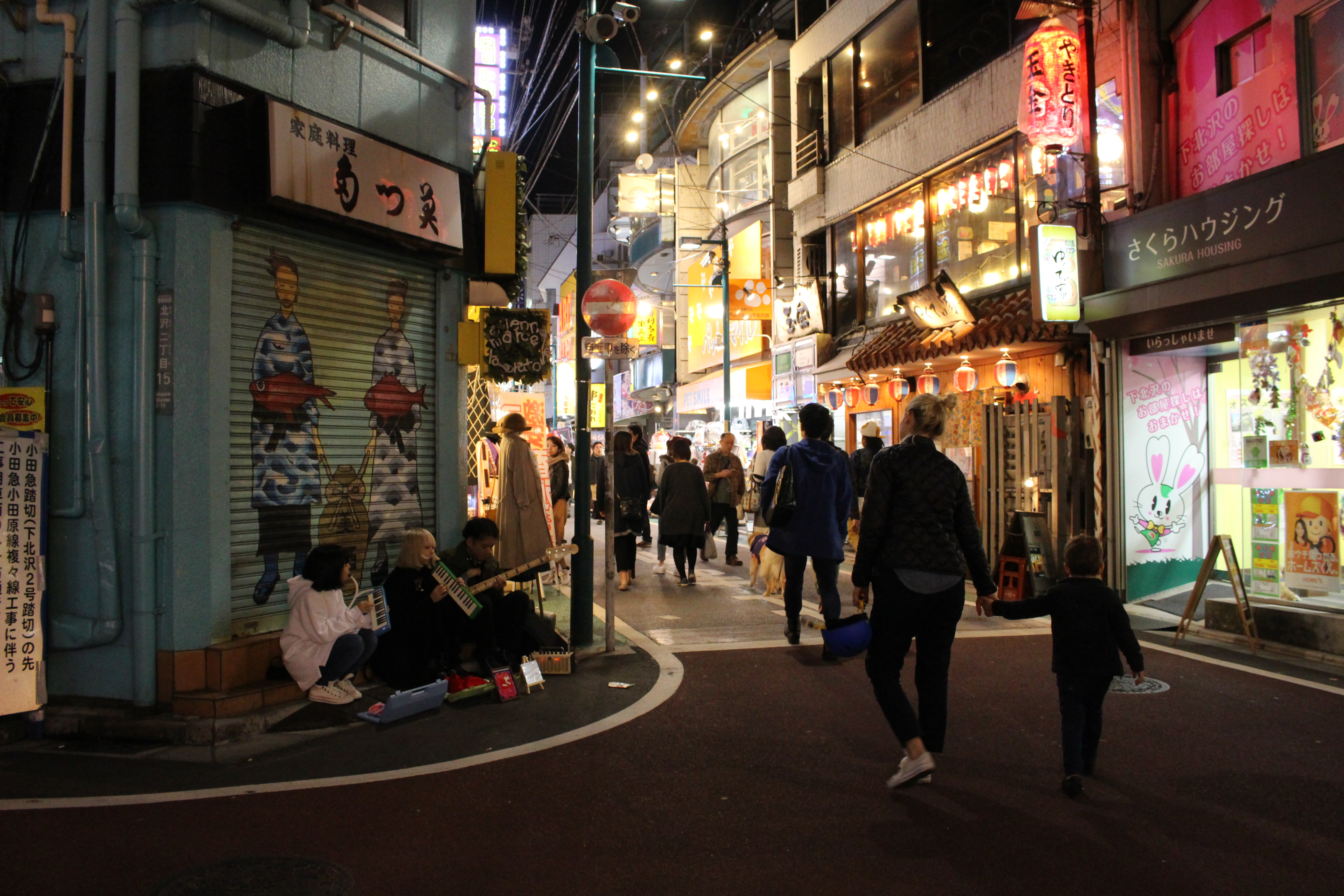 都市空間と情報空間を連動させることにより可能になる音楽の状況を推論し、タクティカルメディアを実装することが本研究の目的である。アンリ・ルフェーブルによって提唱されたリズム分析を基盤とし、下北沢という都市のリズムを分析することを試みる。シチュアシオニスト・インターナショナルの活動やタクティカル・メディアとして定義される作品に着目をして、 既存の都市や建築を「転用」し有効に活用することで、 都市空間と情報空間を「漂流」する手助けとなる音楽メディアを設計し、一般市民が暮らす都市を理解するきっかけや一般市民の都市への関わりしろを助長する。

下北沢におけるフィールドワークやフィールドレコーディングを実施し、それらを都市のリズム分析と位置付け、その分析に基づいて、ダイアグラム制作やサウンドデザイン、メディアデザインなどの実践へと接続させた。成果物としては、以下の三種類の形式をとり、方法論としての都市のリズム分析の実践及び評価を行った。

1)都市の楽譜=ルフェーブルの都市の三層に依拠しながら、下北沢の見えない構造をダイアグラム化した。
2)都市の音楽=下北沢の街の音を基にアーティストに作曲を依頼し、参加型デザインとしての楽曲制作を行った。
3)都市のメディア=音楽/映像/テキスト/ウェブなどを複合的に編集可能なAdobe Digital Publishing Suiteを使用し、下北沢をインタラクティブメディアとして編集した。